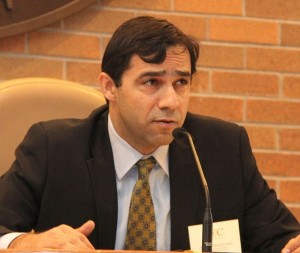 Dr. Alidad Mafinezam's books, conferences, and essays cover a wide range of disciplines but all share a common vision: Diversity is not a challenge but rather an inherent strength of North American democracies, a vast multicultural resource of human potential that can inform and empower both domestic and foreign policy.
In an era where policy makers struggle to build bridges to West Asia and the developing world, Dr. Mafinezam shows how immigrant and diaspora communities in the U.S. and Canada provide bridges already built, in a broad array of areas such as:
West Asian Politics and Economics
U.S. and Canadian Public Policy and Planning
Diasporas and International Development
Social Innovation and Communities of Practice
The West Asia Council
This vision has culminated in his founding of the West Asia Council, a non-profit organization promoting knowledge and understanding between North America and West Asia by tapping into the vast human capital and potential of Arab, Turkish, and Iranian diasporas in the U.S. and Canada.
Previous Affiliations
Co-founder of the Mosaic Institute.
Former board member of the Iranian-CanadianCongress for whom he has moderated numerous candidates debates at the federal, state (provincial), and municipal levels.
Served as a Principal Investigator at the Centre of Excellence for Research on Immigration and Settlement.
Acted as an advisor to

UN University for Peace
Centre for Applied Studies in International Negotiations, Geneva
Center for Urban Policy Research, New Brunswick, NJ.

Founding coordinator and fundraiser of the Columbia Caspian Project at Columbia University, New York, which examined the geopolitical transformation of the energy-rich Caspian region.
Founding coordinator of the Project on US-Iran Relations at the Atlantic Council, Washington, D.C.
Education
He holds a Ph.D. in Public Policy from the Edward J. Bloustein School of Planning and Public Policy at Rutgers University in New Brunswick, NJ, where he focused on comparative public policy, as well as urban and regional planning in a North American context. Mafinezam also holds a BA in psychology and philosophy from the University of Western Ontario, and is a graduate of the Thacher School in Ojai, California.
Major Publications
He is lead author of "Iran and Its Place Among Nations" (2008, Praeger Publishers), which is carried by over 600 libraries internationally, and has been used extensively as a reference on Iranian foreign policy.
His dissertation, entitled, "For Inquiry and Reform: Think Tanks of the Progressive Era." (2003, Rutgers University) chronicles the rise of "scholar-statesmanship" in the United States of the early Twentieth Century, and the transformed intersection of social science and public policy in our time.
Mafinezam's writing has been published in the Toronto Star, The Mark, the Philadelphia Inquirer, PBS's Tehran Bureau, the Literary Review of Canada, among others. He has been interviewed by the BBC, VOA, I-Channel, CBC, as well as numerous West Asia-based media.
Mafinezam has organized and spoken at dozens of events in the U.S., Canada, Europe, and West Asia, where he has emphasized his favorite motto, "Everything is Connected to Everything Else."